What are medi varicose socks?
Medi varicose vein stockings below knee designed to prevent varicose veins, help reduce the symptoms, improve blood circulation in the leg, and relieve tiredness and pain caused due to vein thrombosis. Varicose compression socks also help reduce the pressure on the affected area, and prevent fluid accumulation in the legs. Read on to learn more about varicose veins socks benefits, varicose socks price, and more.
Medi varicose veins socks uses
Helps reduce varicose veins symptoms and treat varicose veins safely.
Protect against and treat vein thrombosis.
Help with Venous ulcers treatment.
Prevents fluids from accumulating in the legs.
Improve blood flow in the legs.
Prevent blood from pooling in the legs.
Protect against problems caused by skin ulcers.
Provide appropriate pressure on the leg vein.
You may also like German varicose stocking above the knee from Medi
Medi stockings for varicose veins advantages
High quality materials.
Washable and reusable.
Easy to use.
Lightweight design.
You may also like Varicose Veins Compression Stockings above knee | Germany
Varicose vein stockings below knee disadvantages
Only for 6 months usage.
You should consult a doctor before using it.
May cause some side effects.
Medi varicose veins stockings price in Egypt 2023
At Eldoctorz, Medical varicose vein stockings are available for purchase for just 1000EGP per piece.
How to wear compression stockings for varicose veins
Pull the socks up until the correct level of pressure is applied to the affected area.
Don't let the sock slide down so it doesn't become a tight band around the leg and trap blood.
Contact your doctor if the socks are uncomfortable for you or don't feel right.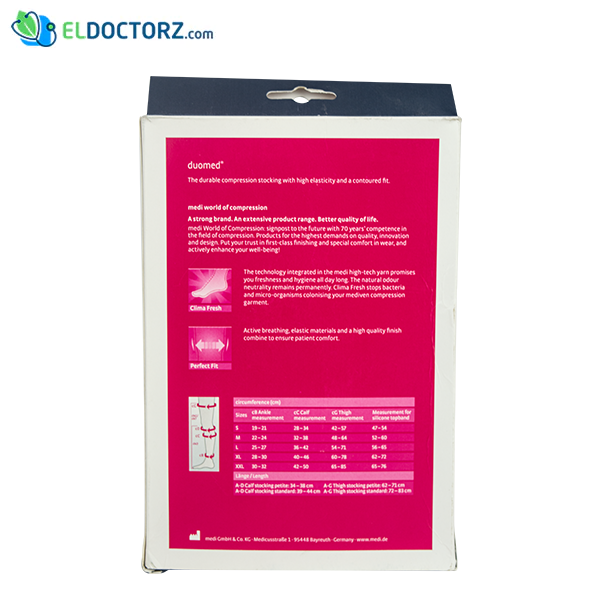 Below knee stockings for varicose veins side effects
Medi varicose vein stockings below knee may cause some common side effects if used without proper instructions. However, you may experience the following:
Discomfort.
Irritation.
Temporary dents in the skin.
Broken skin.
Instructions before using elastic compression stockings for varicose veins
Must consult a doctor before using.
Ensure that the varicose veins socks size matches your condition.
Consult your doctor if any adverse reactions happen.
Keep in a cool and dry place.
Ask for our German Medi varicose vein stockings below knee offers at a special price and enjoy our best offers at Eldoctorz, by contacting us through the following number: 01017111220.