Tynor shoulder immobilizer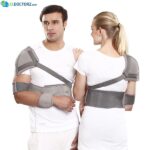 Tynor shoulder immobilizer
Well ventilated
Smart and sleek
Extra compression cap
Four way immobilization
Description
Tynor Elastic Shoulder Immobilizer is a lightweight, sleek, and smart design to provide immobilization in shoulder dislocation and post-operative rehabilitation of the shoulder. It reduces abduction and arm rotation by positioning the arm close to the body.
Tynor shoulder immobilizer features
It's a scientific design which provides six -way immobilization, it is well
ventilated, comfortable, sleek and smart.
Can be used in patients with open wounds around the shoulder.
Effective, even in patients confined to bed.
Additional shoulder cup improves grip on the injured shoulder, improves immobilization, provides warmth and speeds up the process of healing apart from enhancing confidence of the patient.
Sizes
Tynor shoulder support price
Available at El doctorz at a discounted price, 500 جنيه مصري per piece.
You may also like: Universal Shoulder Immobilizer | Flamingo
How to wear shoulder support
Wrap the belt around the chest area at the diaphragm.
You will find an arm belt in the side part of the belt that you tied around the chest, wrap this belt around the arm.
Put the arm into the brace in the belt in front of the diaphragm, then stick the brace to provide the appropriate pressure.
Place the belt's shoulder pad over the affected shoulder and loop the belt arm from back to front under the opposite shoulder's armpit and attach it to the capsule of the belt.
Attach the two arms of the belt from the back and front to form proper pressure
To get the best treatment for shoulder injuries such as shoulder dislocation or to rehabilitate the shoulder after surgery, you can buy an arm holder and a flexible medical shoulder stabilizer from Tynor directly from our website, or contact us by phone or WhatsApp through the following number