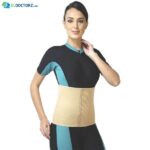 Flamingo Abdominal Belt
Tighten sagging abdomen after childbirth.
Abdominal support and rehabilitation after surgery.
Provides back support, comfort, and pain relief.
Improves blood circulation.
Description
Flamingo Abdominal belt and Support Belt, Postpartum Abdominal Tightening, Postoperative Abdominal Muscle Support, Back Spine Support.
Abdominal Belt uses
Support and tighten the abdominal muscles.
Can be used during exercise.
Tighten the sagging abdomen after childbirth.
Abdominal muscle support after surgery.
Can be worn under clothing.
Helps to recover faster after surgery.

Provides support and comfort to the back.

Improve blood circulation.
Reduces back pain, swelling and discomfort.
Features Flamingo Abdominal Belt
Made of high quality materials.
Available with a Velcro buckle.
Easy to adjust its size.
It is characterized by high flexibility.
Provide support and comfort for the back.
It can be used during exercise.
It can be worn under clothes.
Abdominal Belt Better Life | Stomach Burner
Sizes
Small: 70-80 CMS
Medium: 80-90 CMS
Large: 90-100 CMS
X Large: 100-110 CMS
2X Large: 110-120 CMS
3X Large: 120-130 CMS
How to wear Abdominal Belt
Place the belt in the back over the end of the spine.
Wrap the ends of the belt around the abdomen and tighten the belt as you wrap it.
Stick the belt ties together.
Flamingo Abdominal Belt price
Available at El doctorz at a discounted price, 350 جنيه مصري per piece.
The Flamingo Abdominal belt provides the best result of sagging and supporting the abdomen after surgery in addition to providing comfort and relaxation for the back, you can get buy it directly or contact us by phone or WhatsApp from the following number
01017111220